The NILG continues to communicate with OFCCP leadership regarding the COVID-19 pandemic and how the Agency can continue operations but still provide reasonable extensions and adjustments to contractors because of this unprecedented emergency.  From our discussions, the NILG understands that to continue operations to the extent feasible given the current emergency and to address contractor concerns, the OFCCP will institute the following protocols:
Grant an automatic 30-day extension for submission of AAPs after receipt of Scheduling Letter
Grant an automatic additional 30-day extension to contractors who submit their written AAP narrative within 60 days of receipt of scheduling letter (i.e. provide another 30 days for submission of all data reports and analyses)
Grant an automatic extension of 14 days, and more commonly of 30 days, for contractor response to information requests, with opportunity for further extensions as needed
Conduct 503 focused review onsites via video or phone conference only until contractors begin resuming normal operations
The NILG understands the OFCCP will grant further extensions to contractors whose ability to respond remains affected by the COVID-19 emergency, and such requests will be liberally granted. The OFCCP and the NILG recommend that contractors who believe the OFCCP is not taking the pandemic emergency into sufficient account, either in general or in a relation to a specific audit, contact the OFCCP Ombudsperson, Marcus Stergio,  Stergio.Marcus@dol.gov or 202-693-1174.
The OFCCP and the NILG recommend that contractors concerned about receiving Scheduling Letters during the emergency consider providing contact an email address for the responsible contractor employee to the applicable Regional Director, with a copy to Deputy Director Patricia Davidson at  Davidson.Patricia@dol.gov.  The OFCCP assures the NILG that contractors providing this information will receive the Scheduling Letters via email in addition to the mailed copy.
The NILG would like to thank Director Leen and the OFCCP for "dropping everything" to discuss these matters and for the Agency's openness to addressing contractors' needs.
The NILG hopes you and your families remain safe and healthy in these difficult times.
The NILG 2020 Conference has been cancelled. Please check back for more information on the NILG 2021 National Conference!
Liaison Partnerships
Working Together Towards Equality in the Workplace
Partnering with OFCCP, EEOC, ODEP, VETS, DisabilityIN and other non-profit organizations
NILG Coordinates a Wide Range of Helpful Services
RESOURCES
Learning Opportunities, Networking, Communications and Awards
Register for ILG members only webinars and news
WEBINARS AND NEWS
SUBSCRIBE NOW
Conference Cancellation and 2021
The NILG 2020 Conference has been cancelled.
If you registered for the conference, you have the ability to transfer the registration to the 2021 conference or cancel it for a refund. Cancellations must be completed by Sept 1, 2020.  After that date we will automatically transfer your registration to the 2021 conference. Please contact sandy@perteam.com for more details.
If you booked a hotel room at the Gaylord Marriott National Resort under our block, it has been cancelled and a cancellation email was sent.  Should you need any information please contact the hotel directly.
NILG 2020 offering FREE Webinar series
The NILG 2020 National Conference Planning Committee and the NILG Board is pleased to announce a series of FREE webinars to the contractor community in July and August. Programming is underway and we can confirm OFCCP's Director Craig Leen will open the Virtual Conference.  Email communications will be shared in the next few weeks, visit this website for updated information on the webinar series and how to register.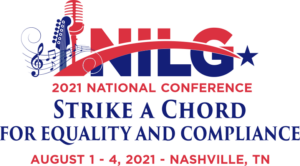 We hope you'll join us at the NILG 2021 National Conference
Sunday, August 1 – Wednesday, August 4, 2021
Omni Hotel in Nashville, TN. 
Please save the date and plan to attend! 
"The National Industry Liaison Group (NILG) is a unique consortium of professionals consisting of federal contractors and subcontractors in partnership with regulatory agencies, working toward achieving equal employment opportunities for all." – Paul McGovern, NILG Chair
The Office of Disability Employment Policy (ODEP) is the only non-regulatory federal agency that promotes policies and coordinates with employers and all levels of government to increase workplace success for people with disabilities.
Disability:IN is the leading nonprofit resource for business disability inclusion worldwide. Our network of over 185 corporations expands opportunities for people with disabilities across enterprises.
The Office of Federal Contract Compliance Programs is part of the U.S. Department of Labor. OFCCP is responsible for ensuring that employers doing business with the Federal government comply with the laws and regulations requiring nondiscrimination.
The U.S. Equal Employment Opportunity Commission (EEOC) is responsible for enforcing federal laws that make it illegal to discriminate against a job applicant or an employee because of the person's race, color, religion, sex (including pregnancy, gender identity, and sexual orientation), national origin, age (40 or older), disability or genetic information.
VETS is committed to helping America's veterans, separating service members and military families by preparing them for meaningful careers, providing employment resources and expertise, and protecting their employment rights.
The NILG Board supports 61 ILGs, which are comprised of small, mid-size and large federal contractors and employers across the country. No other employer association has a broader base of constituents focused on EO/AA matters.
Current and Past Events and Webinars
Read the latest news from our Partners
Disability:IN has compiled the following resources to support your disability inclusion work during COVID-19.
COVID-19 Response: Industry-Specific Resources
The coronavirus and COVID-19 crisis impact the disability community in ways that are both universal and unique; this is also true across industries. Here
President's Advisory Commission on Asian Americans and Pacific Islanders (PAC-AAPI) Convenes Inaugural Open Meeting and Virtual Listening Session
KCPullen@doc.gov
Thu, 05/28/2020 – 11:06
Remarks by Commerce Secretary Wilbur L. Ross at the 2020 National Asian American and Pacific Islander Business Summit
ASowah@doc.gov
Fri, 05/15/2020 – 06:29
U.S. Secretary of Commerce Wilbur Ross Praises Plans by Taiwan Semiconductor Manufacturing Company (TSMC) to Build Semiconductor Facility in Arizona
ASowah@doc.gov
Thu, 05/14/2020 –
U.S. Secretary of Commerce Wilbur Ross Joins Board Meeting of the Alliance for Automotive Innovation
ASowah@doc.gov
Fri, 05/08/2020 – 11:25
Secretary of Commerce Allocates $300 Million in CARES Act Aid to U.S. Fishermen and Seafood Industries Impacted by COVID-19
ASowah@doc.gov
Fri, 05/08/2020 – 10:56
Department of Commerce Asks for Public Input on Section 232 Steel and Aluminum Exclusion Process
KCPullen@doc.gov
Fri, 05/22/2020 – 11:25